NEI, IAEA Sign Agreement for Direct Cooperation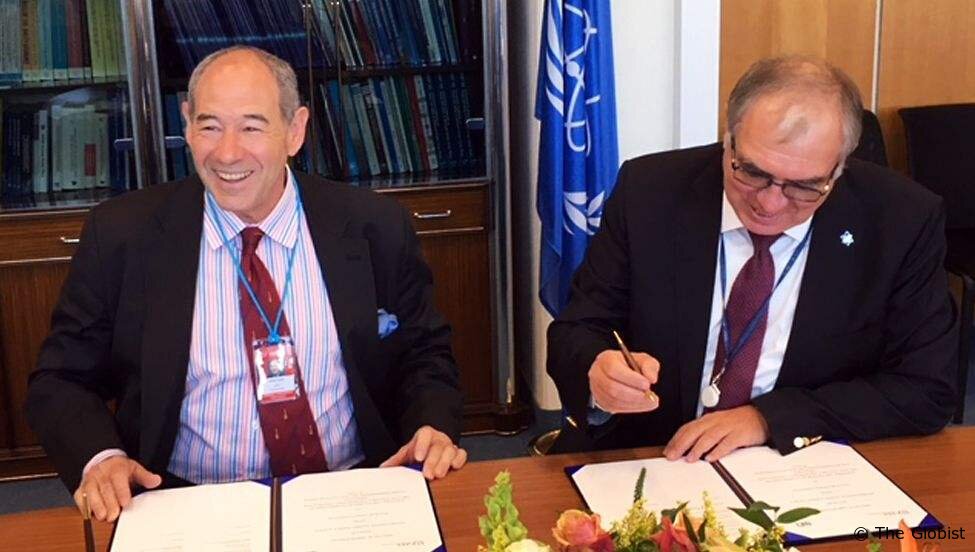 On the sidelines of the International Atomic Energy Agency's 62nd General Conference, Nuclear Energy Institute Vice President for Suppliers, New Reactors and International Programs Dan Lipman, and IAEA Deputy Director General and Head of the Department of Nuclear Energy Mikhail Chudakov on Sept. 20 signed a unique scientific and technical cooperation agreement between the two organizations.
Formally titled a "practical arrangement," the agreement enables direct information exchange and sharing of practices and experience between NEI and the IAEA on issues relevant to the safe, reliable and efficient development, construction, operation and decommissioning of civilian nuclear power plants. The agreement encompasses the deployment of new nuclear technologies.
Lipman said the agreement will enable greater U.S. industry engagement with the global nuclear community.
"NEI is pleased to more actively participate with the IAEA through this unique mechanism," Lipman said. "This arrangement will provide significant benefit to NEI's member companies in gaining them unprecedented and more direct access to IAEA technical programs, dialogues and forums."

"Because of our largely private, nongovernmental nature, the U.S. nuclear industry has long been challenged in effectively engaging with the IAEA's member state structure. Through this practical arrangement, NEI will be able to help bridge this divide—enabling increased cooperation, exchange of information, experience and practice with the international nuclear community."
Chudakov noted that cooperation with NEI also will benefit the IAEA by allowing it to remain better informed about the nuclear industry's "most pressing priorities."
"Armed with this information, we can optimize public-private partnerships to identify and implement valuable activities for relevant stakeholders," he said.
Photo: NEI's Dan Lipman and IAEA's Mikhail Chudakov in Vienna, Austria, signing a cooperation agreement between the two agencies.
The minimum comment length is 50 characters. Comments are moderated